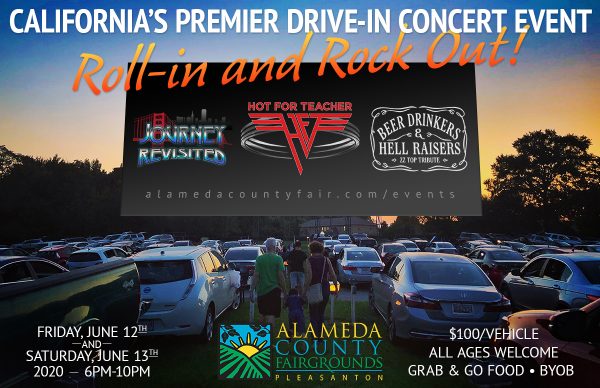 HOT FOR TEACHER / Beer Drinkers & Hell Raisers / Journey Revisited
13
Jun
2020
Pleasanton, CA
Sold Out !
Details
Time
: 6:00PM
Venue
: Alameda County Fairgrounds
Address
: 4501 Pleasanton Avenue
State
: CA
Zip
: 94566
Phone
: (925)426-7600
Contact Website
:
https://alamedacountyfair.com/
California's FIRST "Roll-In & Rock Out" Live Drive-in Concert Event!
SOLD OUT – THANK YOU!
As California relaxes the COVID-19 "Shelter at Home" restrictions, HOT FOR TEACHER are "firing back up their musical engines" to continue the 20th Anniversary Tour.
It seems only fitting that "The Boys of Van Halen Summer" have been tapped to be the first "live musical event" for the new Drive-In-Style Concert Model starting at the Alameda County Fairgrounds June 12 & 13. ROLL-IN & ROCK OUT!
Food can be brought in.
Dinner can be pre-purchased in advanced. *After the initial ticket purchase, a Dinner Offer email will be sent to the purchaser. DINNER PURCHASES will get PREFERRED PARKING in the FRONT ROWS!
There will be a Drive-thru-Bar – but, EVERYONE in the vehicle MUST be 21+.
So, come Jump & Finish What Ya Started with HFT, while doin' the Tube Steak Boogie and remember Don't Stop Believin' because rock will never die!
Everybody Wants Some and these 2 events will SELL-OUT fast!
Tickets are being pushed and available to the Alameda County Fairgrounds 155,000 email list right now.