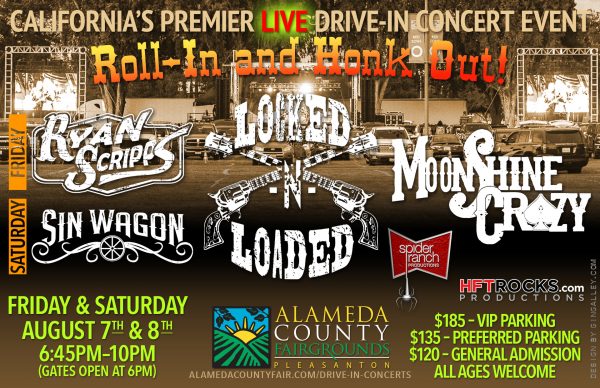 Ryan Scripps / Moonshine Crazy / Locked-N-Loaded
07
Aug
2020
Pleasanton, CA
Details
Time
: 6:00PM
Venue
: Alameda County Fairgrounds
Address
: 4501 Pleasanton Avenue
State
: CA
Zip
: 94566
Phone
: (925)426-7600
Contact Website
:
https://alamedacountyfair.com/
California's "Roll-in & Honk Out" LIVE Drive-in Concert Event!
Ladies & Gentlemen, Guys & Gals… your calls for country music have been answered!
Spider Ranch Productions and HFTROCKS.com Productions proudly presents a "Country Music Weekend" at the Alameda County Fairgrounds with 4 great acts that pay homage to the Country Music's Greatest Artists.
On both Friday & Saturday evening, we are featuring Moonshine Crazy & Locked-N-Loaded.
Friday evening has Ryan Scripps of NBC's "The Voice" fame opening the night's concert.
Saturday evening features the San Francisco Bay area's very own Sin Wagon starting off the night.
$185 VIP Parking
Limited front row parking!
Includes dinner for two! Don't forget to add on beverages separately.
$135 Preferred Parking
Reserved parking!
Dinner and beverages sold separately
$120 General Admission
General Admission parking.
Dinner and beverages sold separately
Show is limited to 200 vehicles and will sell out!
One ticket per vehicle may seat as many people as legally permitted. The vehicle must fit in the marked parking spots. If the vehicle is oversized or an RV, you will need to purchase an additional parking spot to fit.
Buy tix online or call Etix at (800) 514-3849.
Gates open at 6pm, Show starts at 6:45pm.
Even More Info:
Moonshine Crazy
SN&R 2020 & 2019 "SAMMIES" Sacramento Music Award WINNING "Best Cover Band" — MoonShine Crazy released their first single "The American Way" July 2020.  "The American Way" is available TODAY on Amazon Music, iTunes, Spotify, Apple Music, YouTube Music, Google Play and iHeart Radio.  MoonShine Crazy is one of the HOTTEST modern country bands based out of Sacramento, California. MoonShine Crazy has been featured on television, radio and newspapers.  With numerous SOLD OUT shows MoonShine Crazy continues to take live music goers by storm! MoonShine Crazy is comprised of four members which include Jessica Spaid (Lead Vocalist, Rhythm guitar & Mandolin), Mark Coudriet (Drums & Vocals), Ritch Shefke (Bass & Vocals), and Dave "Shoobie" Shafer (Lead Guitar & Vocals). "MSC" are dynamic high-energy performers and create unique original shows with both female and male lead vocalists for Private and Cooperate Events, Venues, Fairs, Festivals, Weddings and Casino shows. "MSC" is excited to share their original music with their fans and also covers Country Hits and adds flavor with surprising Top 40 and Rock Classics. MoonShine Crazy pays tribute to Miranda Lambert, Carrie Underwood, Shania Twain, Little Big Town, FGL, Brothers Osborne, and Jason Aldean. With top-notch vocal talent, tight harmonies, and excellent musicianship MoonShine Crazy entertains crowds of all ages. "MSC" has shared the stage with notable Nashville recording artists American Young, Jackson Michelson, Levon, and James Wesley.
Locked-N-Loaded
Locked-N-Loaded is a Country Music Cover Band delivering the "True Country Experience" to audiences all across the Western USA. A Multi-Award winning band getting numerous rave reviews from industry professionals. The band features an authentic, full country line-up including steel guitar, banjo, Nashville style lead electric guitar, dobro, lap steel, acoustic guitar and impressive harmonies from the vocalists.
They feature an entertaining and captivating stage show and engage the crowd from the very first song all the way to the last. Their songs are carefully chosen and were all #1 chart topping hits that everyone in the audience will know all of the words to and can dance to. Songs that span the years from the classic country hits of the 60's & 70's through the prime country years of the 80's & 90's and even today's current billboard topping radio hits.
They perform at all types of events including Fairs, Rodeos, Festivals, Concert Series, Sports Events, Private and Corporate events and Weddings. They also appear at local venues all up and down the Western USA and perform with Nashville Recording Artists as they make their tour stops through California.
Ryan Scripps
Ryan Scripps is a Nashville recording artist from San Jose, CA who's debut EP "Everything But Her" was released in January 2016. At just 9 years old, Ryan learned how to play the guitar and began singing at the age of 17. He found a deep love and passion for country music and started performing at venues across the United States – Nashville, TN – San Francisco/Bay Area, CA – Rexburg, ID – and more to come!
Ryan appeared as a contestant on Season 13 of NBC's hit reality show "The Voice", striking a spot on Country Music Icon Blake Shelton's team consisting of only 12 artists out of 40,000 who auditioned for the show! Ryan had the amazing opportunity to work with and be coached by Blake Shelton and advisors Rascal Flatts during his time on the show.
Most commonly, you can find Ryan performing in venues all over Northern California such as the Rodeo Club in San Jose where he has opened for many artists such as CMA nominee country duo Dan & Shay. Recently, Ryan performed at The Wildhorse Saloon and the famous Grand Ole Opry in Nashville, TN! Artists such as Canaan Smith and the Swon Brothers recently have given Ryan shout-outs over social media for covering their material and he continues to post on a regular basis, expanding his fan-base.
You can hear Ryan's latest single "U-Turn" on San Jose's Country Radio Station 95.3 KRTY as well as on iTunes, Spotify and YouTube.
Sin Wagon
Sin Wagon is a San Francisco Bay area country supergroup featuring Jewels Hanson (Diablo Road), Douglas Ott (Country Guilty), Steve Hanson (Carousel Cowboys), Jeff Young (The Bell Brothers) & Michael Hughes (The Fundamentals). This collective of longtime country musicians will "WOW" you from the first song, to the last!