Details

Venue : Private Party
Address : 4472 Anderson Ave.
State : CA
Zip : 92145

"Everybody Wants Some, I want some, too! Everybody Wants Some", even the Blue… Angels, that is. From HOT FOR TEACHER's annual San Franciso Fleet Week Parties to bringing the band to the bases from NOB Norfolk, VA to MCAS Miramar San Diego, CA, HFT again performs their high-flyin' antics and sounds for our military's finest—for a proper send-off to civilian life for Commander Nathan Miller!
Commanding Officer, Marine Attack Training Squadron 101
COLONEL NATHAN M. MILLER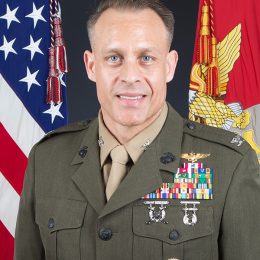 Nathan M. Miller graduated from the United States Air Force Academy in May, 1995 with a Bachelor of Science Degree in Biology and cross-commissioned into the Marine Corps as a 2ndLt. He completed The Basic School in March, 1996, and designated a Naval Aviator on 29 January, 1999. In April, 1999, 1stLt Miller reported to VFA-125 at NAS Lemoore for initial F/A-18 pilot training.
Colonel Miller's decorations include the Defense Meritorious Service Medal (2 awards), Meritorious Service Medal (2 awards), one individual Air Medal and one with combat distinguishing device, Strike-Flight Air Medal (5 awards), Navy Commendation Medal (2 awards) and one with combat distinguishing device, Navy and Marine Corps Achievement Medal (3 awards), and various unit awards. Col Miller was the 2013 recipient of the USMC Tailhooker of the Year award and was assigned to VMFA-323, VMFA-251, and VMFA-312 when these squadrons were awarded as the Marine Corps' top F/A-18 squadron.