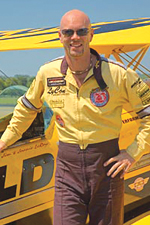 The HOT FOR TEACHER family would like to extend their deepest sympathy and prayers to Jim's wife Joanie, children, family and friends. Jim LeRoy was killed at the Dayton Air Show doing what he loved best… flying!
Randy and Terry had know Jim for 7 years; since the beginning of HFT when they both attended an air show in Hayward, CA. Jim and Joanie were big VH/HFT fans and frequented many shows.
In 1999, Terry wrote a guitar instrumental tune called, "Aviator Asylum" that Jim used for his routine, when flying at his air shows with the Bulldog Team.
Jim soon became "The World's Top Acrobatic Stunt Pilot".
Jim also found and gave his time doing lectures for school kids about flying; in particular with Randy's Gifted and Talented/Enrichment Program at his former Glenbrook Middle.
An ace pilot, pillar of the community, and an even better Man.
He is and will be forever loved and his charismatic statue, charm and "down-to Earth" genuine self will be very missed.
In lieu of flowers, Jim LeRoy's friends and family are asking that contributions be directed to a scholarship fund being set up in the name of his 4-year old son, Tommy LeRoy.
Contributions should be directed to
the Jim LeRoy Jr. Memorial Fund
in care of:
Harris Bank
110 E. Irving Park Road
Roselle, IL 60172
---