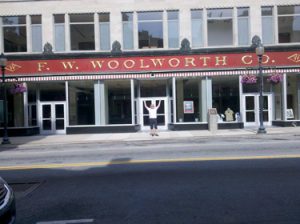 HOT FOR TEACHER just did their first shows on the East Coast for a slew of hungry Van Halen fans. First on 6/24 in Virginia Beach HFT headlined Sandstock for over 3,000 scantily clad, beach goers.
Then on 6/25 HFT opened for classic rocker Eddie Money in Greensboro, NC for over 3,000 again.
While in Greensboro Rockin' Randy stopped by the F.W.Woolworth's Store that became famous in 1960 when 3 African American men demanded to be served at the cafe soda counter signaling the beginning of America's Civil Rights Movement.
---