Rockin' Randy had a great afternoon yesterday of story tellin' and laughs with guitar shredder Jason Becker.
"We talked about our friend Uli Jon Roth [of 1="the" 2="Scorpions" ] and Eddie Van Halen both of whom have visited Jason at his house. And Jason's meeting of physics genius Stephen Hawking, who also suffers from ALS.", says Randy.
"Jason is one helluva cool guy!", he surmises. That, "…we should have been friends a long time ago since we live so close and share a common love of music and life itself."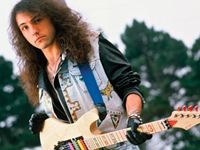 Jason was diagnosed at 20 years old in 1989 with ALS (also known as Lou Gerhig's Disease). Randy's visit to Jason was to pick-up one of his guitars that Jude will be playing at the BIG all-star benefit at Slim's in San Francisco this Saturday the 26th. Jason continues to shred, but now does so on his computer – composing some great rockin' tunes! Saturday's sold-out show is a benefit show for Jason; featuring the likes of Joe Satriani, Richie Kotzen, Steve Lukather, HOT FOR TEACHER and many more – reminding the world that Jason Becker's Not Dead Yet!
»Listen to KCBS' Susan Leigh Taylor Report here.
»Read the full article from CBS San Francisco here.
---